If you're one of the few apartment managers or leasing professionals who feels like they have a manageable work load and your inbox is always at zero, then high five to you. But, I think it's more common that people generally feel the opposite. The challenge is to prioritize, put out fires, but also make sure you stay on top of the important stuff, not just the urgent stuff.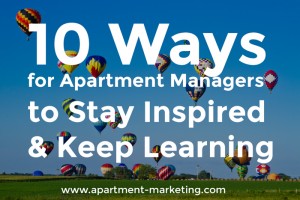 No matter how busy you are, it's pivotal to keep learning and stay inspired. Continuing to grow and learn will not only increase your value to the company you work for, but it can also improve your satisfaction and enjoyment of the job.
So, how can you fit one more thing you should do into your schedule? "Not enough time" is usually the biggest objection to any positive change.
First, it starts with believing the habit has value and then pay attention to the positive benefits [click to continue…]